Egyptian Adventure Tour
With Nile Cruise
January 16-26, 2009
Directed by Ferrell & Elizabeth Jenkins
Our 73rd Foreign Tour Round-trip From New York

The Fascination of Egypt

Egypt has a grip on the imagination of each of us. We probably first learned something about it in our elementary school studies. We have seen it portrayed in movies and television programs.

Every Bible student has studied about Egypt in numerous contexts. Not only did the tribes of Israel grow into a nation while in Egyptian bondage, but we know of the following characters who visited Egypt: Abraham, Jacob, Joseph, Moses, Joshua, Jeremiah, Jesus, Mary and Joseph. The prophets spoke much about the land of Egypt. Egypt is mentioned more than 600 times in the Bible.

You probably understand that it gets extremely hot in Egypt from late spring until early fall. December, January, February, and early March are ideal times to travel there. Later in March and April the heat is not too bad but there are some bad winds, called the khamsin, that bring in fine dust from the desert. This is bad on the respiratory system as well as photographic equipment (and even the photos).

This is no ordinary tour. We will be visiting the most important places and staying in nice hotels that are rated Five Star by the Egyptian government, and using a Five Star cruise ship as rated by the government. Nawas International Travel, the company that arranges most of my tours, has an office in Cairo. They will be handling the arrangements for this tour.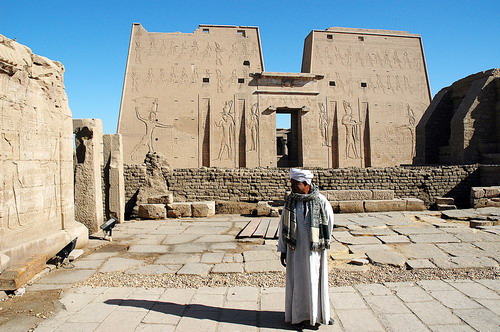 Brief Day by Day Itinerary
The itinerary below is simply a sketch of the places to be visited. The days are filled with activity.

Day 1 - Depart from New York in the late afternoon. We will be flying Delta non-stop from JFK to Cairo.

Day 2 - Arrive in Cairo in the morning.

Day 3 - Cairo sightseeing. Egyptian Museum, city tour, Old Cairo.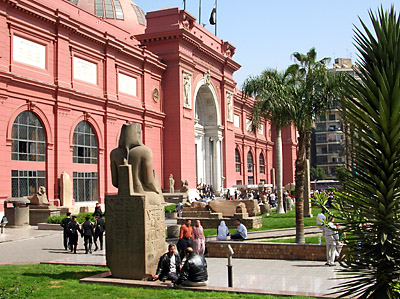 Day 4 - Fly Cairo to Luxor. Begin Nile Cruise. Visit the temples of Luxor and Karnak. We will have our own personally chosen guide with us throughout the tour. The deluxe cruise ships on the Nile are nice and spacious. They have good food and allow wonderful views of life along the river.

Day 5 - Nile Cruise. Visit the valley of the kings and queens of Egypt, Colossi of Memnon, Thebes.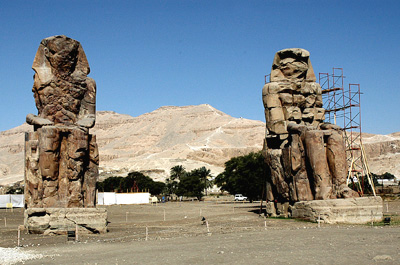 Day 6 - Nile Cruise. Visit Edfu and Kom Ombo. Life along the banks of the Nile has remained little changed for thousands of years. You will marvel at the scenery.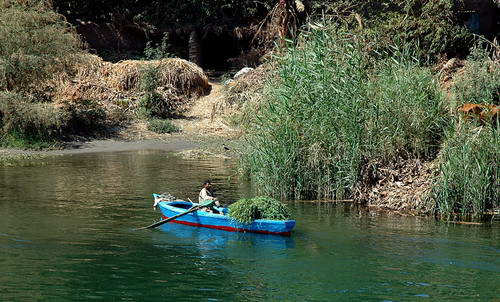 Day 7 - Nile Cruise. Aswan. Visit the temples of Philae,the New High Dam, and the granite quarries. Take a felucca sailboat to Kitchener and Elephantine Islands.

Day 8 - End Nile Cruise. Fly from Aswan to Cairo. Leisure time in Cairo (depends on time of flight).

Day 9 - Visit of the biblical land of Goshen and associated sites in the Nile Delta, including Tanis and the Suez Canal. Lunch is included.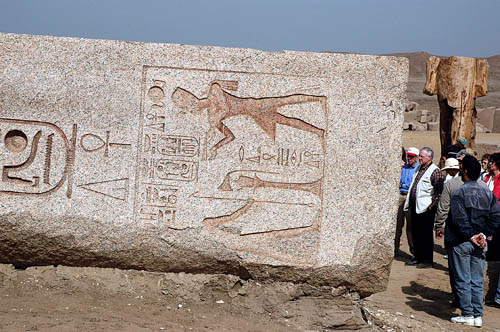 Day 10 - Visit pyramids of Giza and the Sphinx, Memphis and Sakkara. Learn how papyrus stalks are turned into writing material.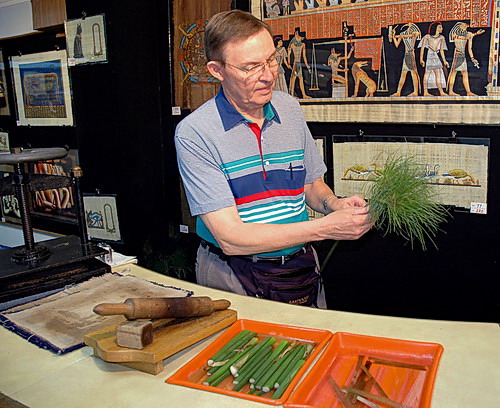 Day 11 - Fly Cairo to New York.

Tour Accommodations and Costs:

Hotels: Our hotels are rated 5-star by the Egyptian government.
Cruise ship: 5 star deluxe (as rated by the Egyptian government).
Meals: Breakfast and dinner in Cairo; all meals on Nile Cruise.
Cost of tour from New York: $3,500.00 per person, double occupancy.
Reservation deposit required immediately: $500.00 per person.
Single supplement: $820.00 per person.
Airport Taxes: Sit down before you read further. The airport taxes and fuel surcharges have increased dramatically. For this tour taxes and fees total $380.00 per person. The Egyptian visa will cost about $25. Any changes in these fees will be passed along to the tour member.
Tips for guides, drivers, cruise staff, waiters, etc.: $110.00 per person.

We can make this tour for the price listed if we have at least 20 persons able to go at this time. The final payment is due 100 days prior to the departure date (October 5, 2008).

---

Some personal thoughts. Here are some personal thoughts that I want to share with you. We could arrange a cheaper tour, but we have chosen to use high quality hotels and cruise ship. When we choose the better accommodations the food is better and costs more. We believe this is the smart thing to do when traveling in Egypt. It is really unlike any other place you have ever traveled. It is unlikely that Elizabeth and I will ever plan another tour like this to Egypt. It is our second Egypt-only tour in 42 years of directing tours. If you wish to see Egypt, this is the time to join us. Elizabeth and I made a personal trip to Egypt that included a Nile cruise in 1992. We enjoyed the trip immensely and remember it pleasantly.

Will you please be kind enough to tell your friends about the tour? And urge them to act immediately. If you think you wish to join us for this tour, please notify us IMMEDIATELY to give us some indication of the interest.

Reservation Deposit. The reservation deposit is $500 per person. The final payment will be due by October 5, 2008.

It's Easy to Contact Us:

Ferrell Jenkins
9211 Hollyridge Place
Tampa, FL 33637-4921
Phone: 813 988-8485
Fax: 786 513-0650


Come with us and leave the luggage handling to the porters!

Visit Ferrell's Travel Blog: ferrelljenkins.wordpress.com. We will be posting some information about Egyptian sites.

Visit our new Biblical Studies Info Page.


Ferrell Jenkins is registered with the State of Florida as a seller of travel.
Registration No. 10133.

© 2008 Ferrell Jenkins