Bible Land Tour of Israel Hotels for 2013
February 16, 2013

---
Netanya, Israel
Seasons Hotel. Hotel overlooks the Mediterranean Sea. The photo was made a few yards south of the hotel. The hotel now offers Free WiFi in the lobby and rooms. The buffets are abundant.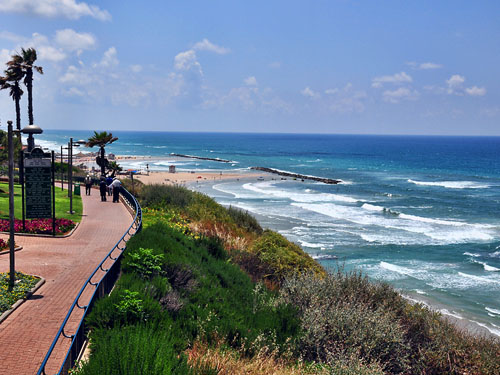 Tiberias, Israel
Ron Beach Hotel. This is a small, family owned and operated, hotel on the north side of Tiberias. Every room has a direct view over the Sea of Galilee and the Golan Heights. Often a good sunrise photo may be made from your room. The food is good. WiFI is available for $5 for the entire stay (3 nights). There are no shops nearby except a small souvenir shop in the hotel.
We will be in Tiberias on the Sabbath. Shops in town begin to close about 3 or 4 p.m. on Friday. Many do not reopen until Sunday morning.
I have stayed at the Ron Beach Hotel several times and always enjoyed it. Our group used it for the first time in 2012. We had to book months ago to get this hotel for the group. I think you will enjoy the dining room, too.
There is a map under Recommended Sites on the hotel web site showing the location of the hotel on the Sea of Galilee.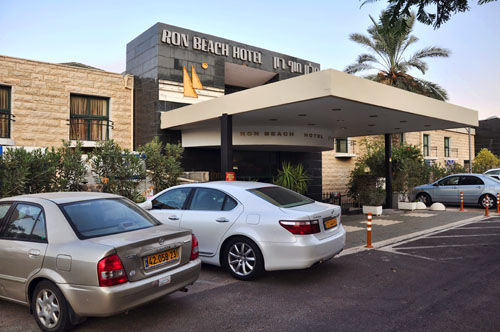 This sunrise photo was made from my balcony at the Ron Beach Hotel.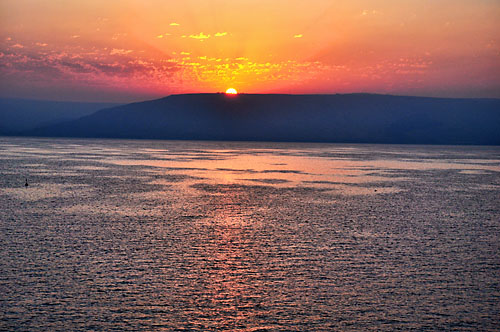 Jerusalem, Israel
Grand Court Hotel. The rooms at the Grand Court are nice. The dining room provides an abundant buffet at breakfast and dinner.
Plenty of good elevators. Expect all of the hotels to be crowded.
The hotel now offers Free WiFi in the lobby and rooms.
This hotel, and several others, were built a few years ago on the former No Man's Land that separated Jordan and Israel for several years until the June War in 1967.
On the Bus

New. The bus we will use has free WiFi.

---


Back to Tours.Biblicalstudies.info.
Visit our Biblical Studies Info Page.
Visit our BibleWorld page. Here you will find a list of National Geographic articles on Bible Lands including Israel.
Travel Blog: Ferrell's Travel Blog.

Updated: 02-16-13
Ferrell Jenkins is registered with the State of Florida as a seller of travel.
Registration No. 10133.
© 2013 Ferrell Jenkins